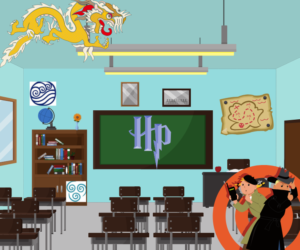 Using themes in a classroom can make learning exciting and fun for students. Students are used to seeing plain desks and walls filled with common sayings or learning strategies. With a themed classroom, students can enter a different world full of magic, dragons, adventure, mystery, etc. Here are five incredible themes a teacher of any grade level can use in their classroom to spice up learning.
Harry Potter
I personally know a teacher that has implemented the Harry Potter theme in her classroom and it turned out amazing. I wanted to become a seventh grader just to be in that themed classroom! There are a ton of things a teacher could do with this idea.
In the beginning of the year the teacher can sort the students into houses and those houses will be there teams for the year. Each table or part of the classroom can be color coded to represent the houses. As rewards for teams, items such as chocolate frogs, butterbeer, or Bertie Botts could be given. The teacher's desk can be called the restricted area and parts of the classroom can represent parts of Hogwarts.
Decorate the classroom with hanging lights, wands, beasts, etc. If a teacher wanted to go further they could decorate each of their student's books as a book that Harry Potter and his friends had to use in their classes such as the Monster book. Each subject could be renamed to that of a Hogwarts class.
Avatar: The Last Airbender
This one would be best if a majority of the class has seen the show, but even if they have not seen it, the idea of elements could be a great theme.
Just like the Harry Potter theme, there are four nations (water tribe, fire nation, earth kingdom, air temple)  that the class could be divided into for teams. The classroom could be decorated with elements and symbols used in Avatar. Gliders could be hung from the ceiling, stuffed flying bison or winged lemurs could be set up in chairs or tables in the class.
The arrow from Aang's head could be situated to point toward important parts of the classroom. There are tons of ideas for this theme to be used in a classroom setting so let me know if you have any more ideas!
Pirates
I incorporated this theme the during my first year of teaching. At the time I taught fifth grade and they embraced this theme nicely. I added stickers of pirates, coins, maps and other stuff around the classroom. I put pirate signs around the classroom such as only pirates may enter here, etc. and I hung up sea nets and a ship wheel to give the classroom an out at sea feel.
My favorite thing with this theme was training the students to shout Ahoy Matey whenever someone walked in through the door. I got tired of them shouting and causing a ruckus so I stuck with the theme and told them they could only say Ahoy Matey or do nothing.
I used a map to keep track of team points. When I counted team points or handed out prizes or candy I would use a treasure chest which made them curious and excited to earn points. There are probably tons more you could do with this theme so let me know.
Spies
This theme will give the students a sense of mystery and self importance if they are treated as secret agents in this theme. Give the students code names and secret phrases only they will know. To take it a step further, make up personal secret phrases for each student.
There are folders out there that say confidential, classified, or top secret. These folders can be used for the teachers for important documents or grades. A neat idea with those folders is buying enough for each student and their homework is turned in via top secret folders. Their homework could be called their mission reports. I use these kind of folders in my high school classes for grades and they are always intrigued by the folders.
Somehow adding gadgets into the classroom could make the theme more real as well. Themed spy stickers or posters of spy movies could decorate the classroom so students are always aware of the theme. If team points are used in this theme, prizes or candy could be held in a briefcase where only the teacher knows the location.
Mythology
The topic of mythology is a personal favorite of mine although I have never used it as a classroom theme. My ideas for this one are basically the same as the others in the sense of decorations such as stickers of dragons, unicorns, leprechauns. If it is more classic mythology you are wanting then take some time to create models of naiads, griffins, or greek gods or something like that.
With smaller children the more mythology you use that is familiar with them, the better they will accept it. They can be divided up into teams and given names of mythological creatures. Each subject can be nicknamed after a myth. If you teach reading or history then mythology stories can be incorporated into their curriculum. I want this to be a good theme because the subject is really cool so if you have any ideas on how to make this better let me know.