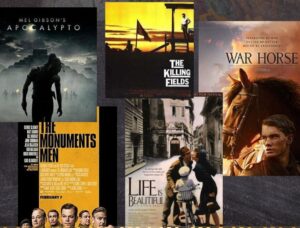 I know there are tons of movies out there that would complement history classes very well. I can't cover all of them so leave a comment if there are any you would recommend. I am looking especially for any movies that would be good for French Revolution, Medieval Age, or Industrial Revolution. I am going to cover the five movies I use in my World History classes.
1. Apocalypto (R)
Apocalypto revolves around the end of the Mayan empire when crops are dying and disease is spreading. Leaders believe they must sacrifice more to the gods to bring back peace and prosperity. This movie follows the journey of a chief's son who is captured along with his village and taken away to be sacrificed.
It is a great movie with lots of action that will keep the students' attention however it is a Mel Gibson movie so there is lots of gruesome violence hence the R rating. All dialogue is in a language that would be close to Mayan so there are subtitles. I actually like this because it forces the students to pay attention.
I highly recommend showing it at the end of an Aztec and Maya unit. At the end of the unit, students should have enough knowledge about the cultures so they can compare the movie to actual history, doing something like a fact vs.fiction theme.
2. Warhorse (PG-13)
Warhorse is a perfect movie to play in the middle or end of a World War I unit. It shows trenches, German and British armies, and multiple accounts from all sorts of life during the war. The movie follows a horse as it grows up on a farm fighting to prove itself until it is sold to a British officer. The horse is taken and used by many different people including the British, Germans and French.
This movie pulls at the heart strings and keeps students interested in what will happen to the horse next. They also get an insight into what the war was like. This movie is best watched with a set of questions, so students continue to pay attention.
I recommend viewing it at the end or middle of a World War I unit so students can watch it with background knowledge and know what to look for in the movie.
3. Life is Beautiful (PG-13)
Life is Beautiful is a unique movie about World War II, mainly the Holocaust, in the way that it is a comedy drama instead of a serious history drama. It follows an Italian Jew who for the first half of the movie tries winning the heart of a lady. The second half is about the Italian and his son in a concentration camp and he is trying to hide the reality of the situation from his son.
I love showing this movie because on the surface their is comedy brought by the main character but the entire time we can see the seriousness of his situations through the character's nervousness and surroundings. There are subtle yet obvious hints as to events leading up to the Holocaust and propaganda in the movie that could only be picked up on if the viewer had background knowledge of the Holocaust and propaganda being used at the time.
That is why I recommend watching it after you teach the Holocaust because background knowledge will be needed to pick up on the subtle tells of the impending event and during the event. The movie is in Italian but you could watch it in English if you prefer. I prefer to watch it in Italian with subtitles so the students pay attention and get the full experience.
4. Monuments Men (PG-13)
Monuments Men is about a story not often heard about. It is not widely known, yet it should be, that Hitler stole and collected art from all over the world. Anywhere he conquered or invaded, he would steal priceless art pieces and hide them in mines, caves, and warehouses.
Monuments Men follows the story of a group of individuals near the end of World War II tasked with finding the stolen art and returning it to their rightful places. I like showing this movie in my world history classes because the students grew up learning about the Holocaust, Hitler invading and conquering to create a land of perfect Germans/Aryans, and new technology. However, not many of them knew that Hitler liked art and planned to create a museum of art full of stolen items or that he hid hundreds of thousands of art in caves and mines.
This movie shows another side to the war, a unique and not often heard of story. I recommend showing this movie at the end of a World War II unit, mainly because the movie is centered around the end.
5. The Killing Fields (R)
I don't know if you've noticed yet but I placed the five movies in the order of which they should be watched. With that said, The Killing Fields is at the end because it is a movie that should be watched toward the end of the year, mainly after a unit about genocide in the 20th century.
I have been shocked to discover students think the Holocaust was the only genocide of the 20th century. This movie follows a couple of journalists during the Cambodian Civil War, one of them a Cambodian who falls into Khmer Rouge hands. He is taken to a site where hundreds of Cambodians were being killed daily.
This movie is a historical drama about a true story, perfect and I say necessary for students to see and become knowledgeable about. It is rated R though so there are grim and horrific scenes, but sometimes history is horrific and in order to change our future we cannot ignore the past.
I show these five movies because I think they have relevancy and importance to the timeline that we go over. If you have any other suggestions for movies I could show my students, please leave a comment.