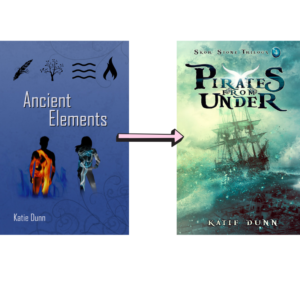 My first book cover, Ancient Elements, was made by a talented individual but I wanted to get a professional's point of view and ideas for my second one. For Pirates from Under, I decided to make the investment and work with a multitude of professional designers on 99designs until I narrowed it down to the final design. I was able to create a contest that let over fifty designers submit ideas and ended up having over one hundred design submissions. The contest was simple and I highly recommend it if you are trying to figure out what you want for your cover.
Setting up a Contest
The first thing you will have to do to set up a contest on 99designs is explain what you are looking for in a cover. Don't worry, you do not need to have everything figured out right away but this is your chance to choose dimensions, colors, details, explain what the book is about, etc. This description allows designers to get an idea of what you are expecting.
They are not mind readers, after all.
When I was setting up my contest, all I knew was that I wanted to show an underwater city, have a blueish-green stone and to show my first book on the back cover. I still chose colors and other ideas that seemed nice at the time but I was open to any suggestions.
Review Dozens of Designs
After you fill out the details, designers will have seven days to submit ideas. In that time you can message them and give them feedback to improve their designs to your liking. I have found that designers love details, feedback, and are very easy to talk to. Don't be afraid to have them change things because you are paying to get a design that is perfect for you.
Once you have talked to the designers and received tons of submissions, you will have to narrow down your choices.
Narrow it Down and Choose
After the seven days are up, you are moved to round two of the contest. This is where you need to choose a maximum of five designers. In this round, you work with the five or less designers to refine their designs into a perfect cover. Have them change little things like font, placement, size, etc. if you think it is needed.
The last round lasts for three days but you can choose a winner anytime. It is important to talk to the designers, especially in this round. Communication is key when working with a designer whether it is on this site or elsewhere.
I ended up having three designs that I really liked but in the end, I chose Antonio Del Esporti's design of Pirates from Under which is the one you see at the top.
If you take anything away from this article, it should be that communication is key when working with a cover designer, the more details you give them the better, and don't be afraid to ask for changes. Designers are talented but not mind readers.